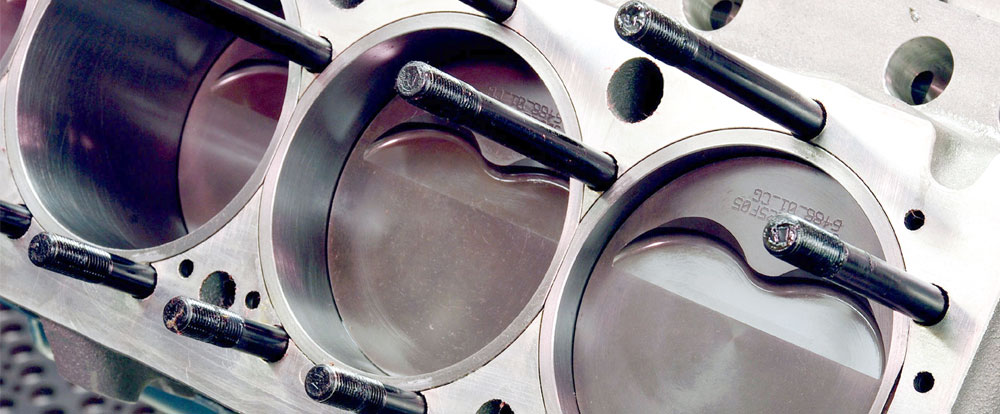 The importance of "pressure testing" heads cannot be overstated. The profits machine shops make are lost because of comebacks which can so easily be avoided. It is often too time consuming or the customer does not request it, to pressure test heads & blocks. By having the correct machine one can save approximately 70 % on setup time.
If pressure testing can be accomplished quickly and efficiently one can pressure test the component before work commences and be in a position to give the customer an accurate quote and report.
It can occur that when an aluminium cylinder head is removed from the motor, it stress relieves itself and cracks (this is only apparent if not pressure tested), after guides have been fitted, valves and seats cut and the head is in the process of being skimmed.
It then has to be sent away or welded in-house and the machine process begins from scratch again.Therefore, even if the customer does not request a "pressure test" a professional shop will always cover all the bases to maintain their good reputation in a competitive market.
The pressure testing becomes a vital link in the chain of reconditioning and the correct machine is an asset to that workshop. No more G-clamps and bits of broomstick hammered into the water holes, no, use a system that works and you are proud to show your customers.
From the drawing board stage of development until the finished product, only the highest standards were maintained in order to deliver quality in-hand tooled machinery.
Workmanship of the most skilled, consistently went into producing the best in Automotive Pressure Testing equipment on the market to date.
We here at NEWCLEAR® understand the ever increasing demands on the automotive industry to deliver quality consistently, and therefore give our personal assurance of product reliability.
WITH NEWCLEAR® YOU HAVE THE KNOWLEDGE OF EXPERTISE BACKING YOU ALL THE WAY.
The Newclear Pressure Tester is a revolutionary new machine that has been specifically designed for the automotive engineering industry. It has the capability to effectively test various cylinder heads and blocks e.g. a single M/Benz OM407 cylinder head, a Cummins 350 big cam block or a M/Benz 444 V12 block.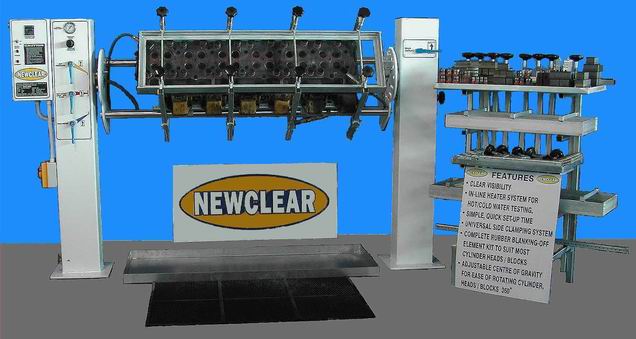 The main features of the Newclear Pressure Tester are one of total visibility through a transparent pressure plate with a 360°rotation capacity as well as an adjustable center of gravity to allow rotation of either a cylinder head or block to take place with ease. It is a complete unit with the added advantages of an in-line heater system which can provide hot and cold hydraulic testing capabilities up to 800 kPa and a quick set-up time.